Fall Blog Home Tour
Hey y'all! Welcome to our Fall Blog Home Tour! I am hanging with some talented bloggers to give you some major Fall inspo. Grab your cup of coffee and cozy sweater, and join us for all of the fun Fall feels. If you are coming from over from one of these lovely ladies mentioned below, thanks for hopping over! I am going to be sharing with you how I put together an easy fall table display.
The Basics
One of my favorite things to do is seasonal tablescapes. I love the statement they make to a room. Although the statement is grand, the task can be quite simple. Just start with the basics! First, I like to gather my inspiration pieces. This year, I'm all about the pumpkins! I love purchasing real pumpkins because they have so much character. For this project (and every really), I thought about different shapes, textures and colors. Tip- don't be afraid to move those pumpkins around when decorating different spaces. They may be on my patio one day and my table the next. Its basically "pumpkins go 'round" this time of year in my home! I also pulled some outdoor branches and huge fake gourds to add to my centerpiece.
The Layering
Now that I have my inspiration pieces gathered, its time to put them all together. I always have layering on my mind when decorating. I'm a huge fan of cozy, and layering always seems to do the trick! As a base, I used a neutral table runner that added instant contrast and coziness to my white farm table. I then started stacking the pumpkins from the middle working my way out. I do this to create balance to the eye. To add interest to the look, I decided to use a large vintage round bread board to separate the largest pumpkin from the table runner. This also created balance by adding the same brown color as the gourds that I would later put on the outer edges of the centerpiece. This wooden bread board instantly added warmth and you guessed it, another layer! Note- wood tones always add warmth to a space because of their warm color. To give it that finished look, I added warm green branches to the base of the pumpkins. I also added brown gourds to the outer ends of the centerpiece to give it a bit more balance and warmth. Why so much warmth? Well, its Fall and Fall screams warm and cozy to me! Also, I have a white table with some white chairs, so warmth is definitely needed to cozy up the space!

The Rearranging
Its always fun to create, and even recreate sometimes. A few weeks into having this decorated, I switched out the gourds for white faux pumpkins. Tip- don't be afraid to mix faux with real. I do it with pumpkins and florals! Having the real mixed in actually helps the faux to look more real. So its always a win! I changed these out because I wanted to use my gourds somewhere else. Big surprise, huh? Also, I switched my regular dining chairs out for a bench. I wanted to enjoy the beauty of my creation! The chairs were high back and blocking my view. I love that I was able to create a huge change to my dining room set that didn't cost me anything. I simply moved a bench from an area in our home that wasn't being used. Remember to shop your home! Rearrange furniture or whatever else (ex. area rugs) to make a room feel completely new. This really was a simple decorating idea that anyone can do on any budget. I hope it inspires you do create new spaces without having to go buy anything new! Everything I used, I already had on hand. Now lets see how long it is before those pumpkins are back on the patio or in the kitchen or by the stairwell. OK, you get the point!
For More Fall Inspiration…
Visit each of my friends' blogs below! There is fall inspiration for any style.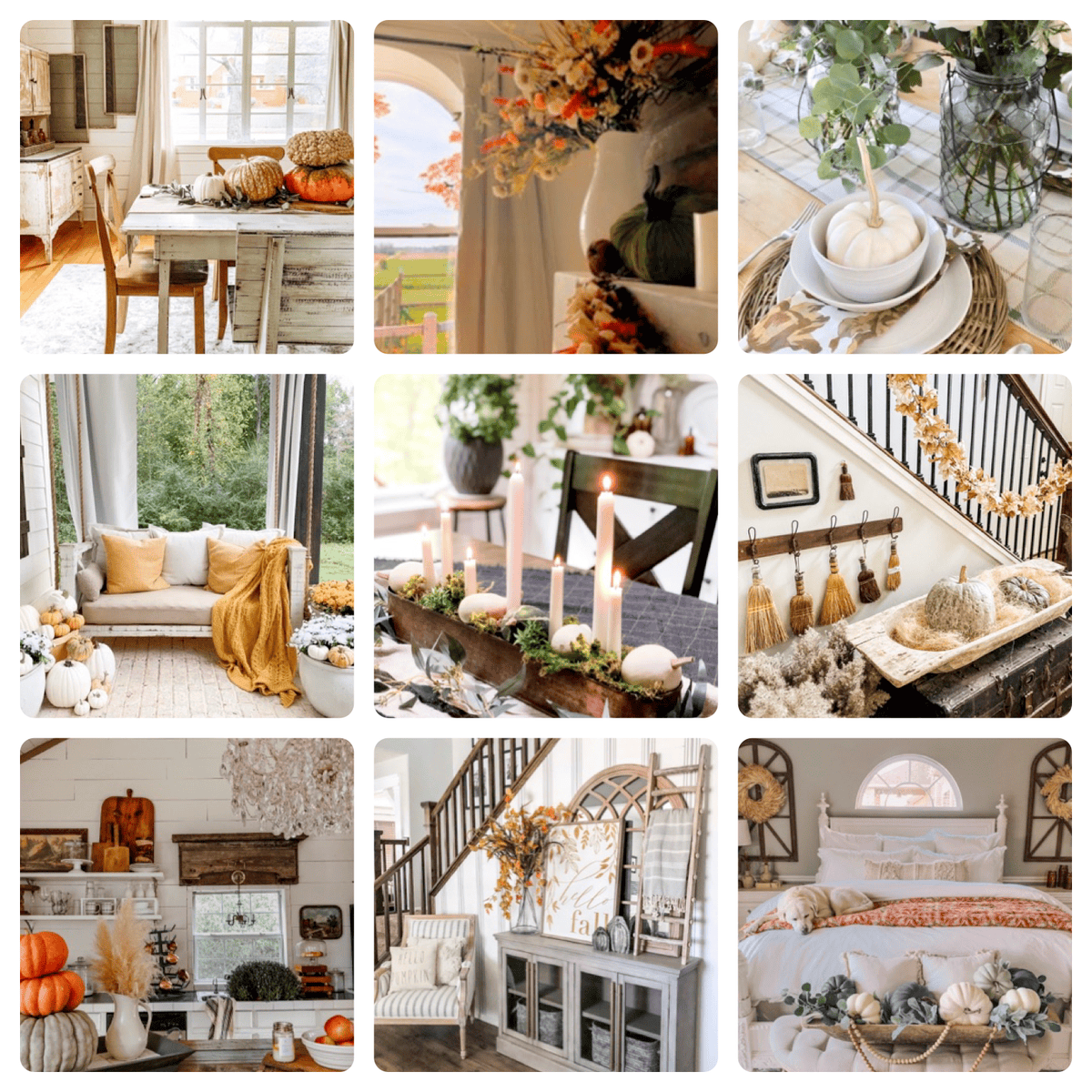 Charlotte's Happy Home | Cuter Tudor | Designs by Karan
Grace In My Space | Grey Birch Designs | Karlee Bowman
Life By Leanna | My Georgian Farmhouse | Selah Pines Farmhouse